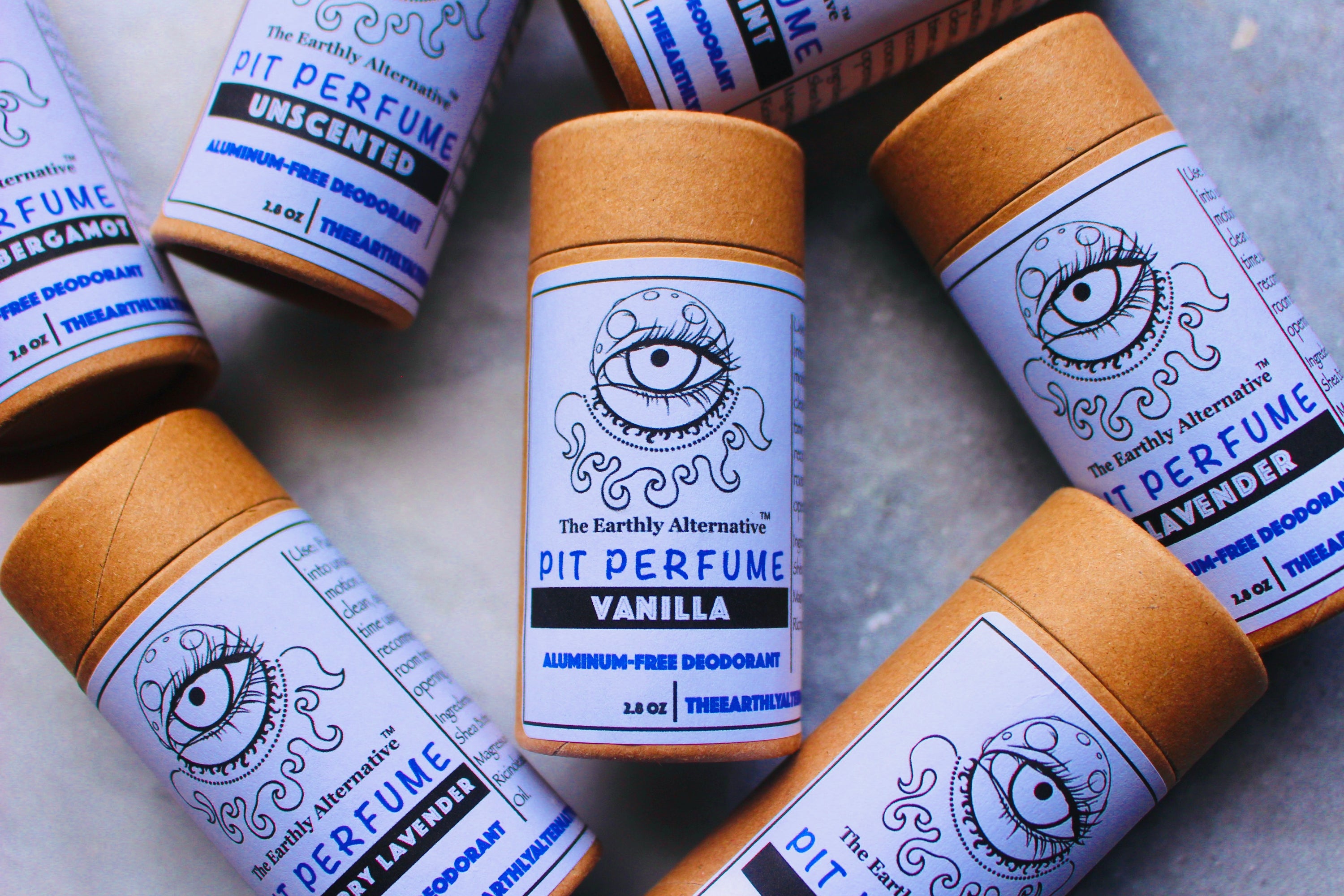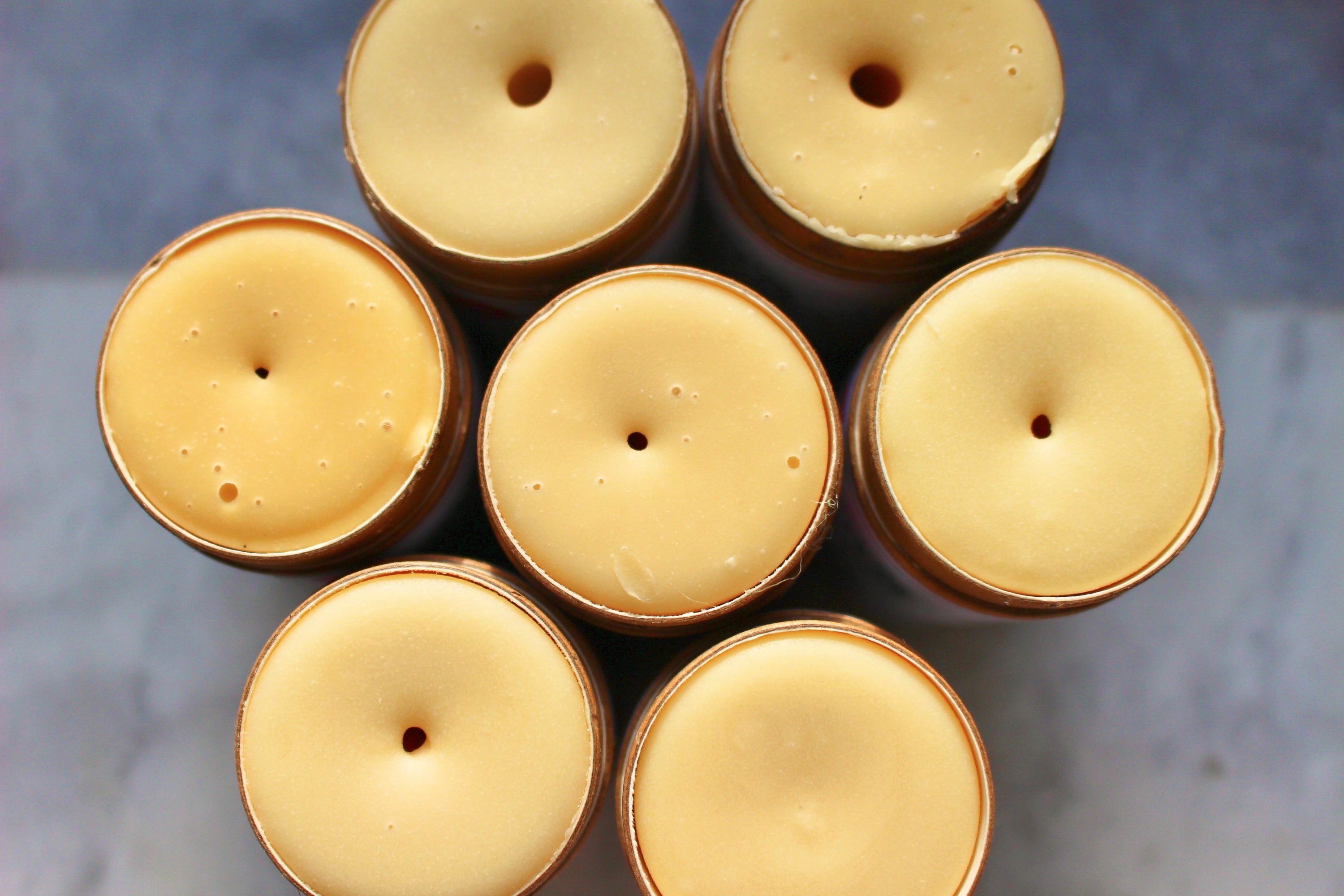 Description
You've been on the hunt for a natural deodorant that actually works! Well stop looking! Finally, a stick deodorant that goes on clear, lasts all day, and doesn't cause irritation! 
Free of Baking Soda, Plastic, & Aluminum. This deodorant is formulated with 2 odor-fighting ingredients to ensure funk-free coverage all day long! 
All of our fragrances are paraben, phthalate, & hormone-disruptor free! We only use skin safe, non-toxic fragrances in our products but also offer essential oil scented options. 

If you are new to natural deodorants, we suggest performing an armpit detox using The Detoxers also sold by Terra Essentials. The Detoxers also helps when you find that your natural deodorant isn't working as well as it once did.   
Please give your body up to 45 days to adjust to a new product.
2.8 OZ Push-Up Paper Tube
Looking For Fragrance Free Options? Try These Options Scented With Only Essential Oils:
Lavender
Peppermint
Benefits
Long-lasting odor protection
Goes on clear
Aluminum-Free

Ingredients
Organic Shea Butter, Organic Candelilla Wax, Jojoba Oil, Arrowroot Powder, Magnesium Hydroxide, Zinc Ricinoleate,Essential Oils and/or Fragrance Oils
How to Store
Store at room temperature. Use within 1 year of opening.
Customer Reviews
10/13/2023
Meaghan L.

United States
I recommend this product
Really good deodorant
I love this deodorant and have been using this deodorant. it smells amazing and i smell amazing with no annoying bumps on my skin.
09/18/2023
Stacphi

United States
I recommend this product
Perfect
Just got it and it works wonders last long and it has you smelling fresh for hours. This is a deodorant I will stick with for years to come. I'm def going to try the other products, I'm sure I will enjoy them just as much. Thank you for all your time and effort you put into your products for us. I appreciate you!
09/12/2023
Catrina

United States
I recommend this product
Finally a deodorant that works
I've tried them all literally natural and antiperspirant s with not much luck. I would sometimes find a natural product that worked for odor control but the baking soda would give me a reaction. But this… listen hurry and buy this. It's great! I detoxed and all that jazz before bed and had a full day of work + yoga and it's still there! I did sweat so it doesn't help there but it's not designed to. Don't change a thing this is great! I'm going to get a few samples now to see what scent works for me. I don't like the vanilla but it's a personal preference, the jasmine is great
09/11/2023
Amyrea M.

United States
I recommend this product
I'll be coming back!!!
This pit perfume is highly effective and long lasting. When worn for extended periods of time it doesn't darken my skin, like traditional deodorants. The smell is natural and light, without the usual overbearing result. I love this and would definitely buy again!!
09/09/2023
Izzy B.

United States
I recommend this product
The best thing ever
I use the vanilla pit perfume and it's my holy grail it works through my postpartum hormones changes and post surgery I smell so yummy and delicious I absolutely obsessed with this product plus it's clean and works