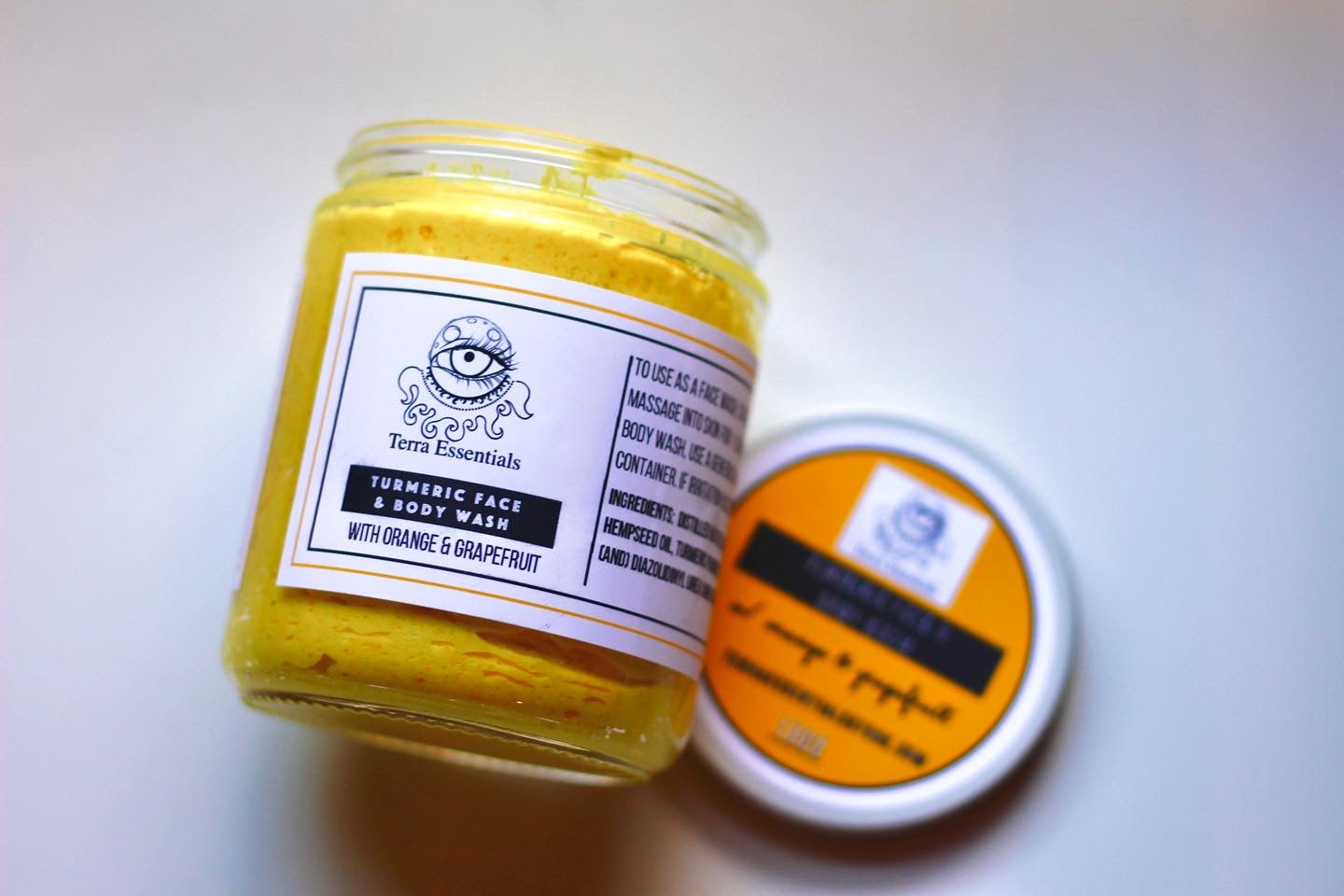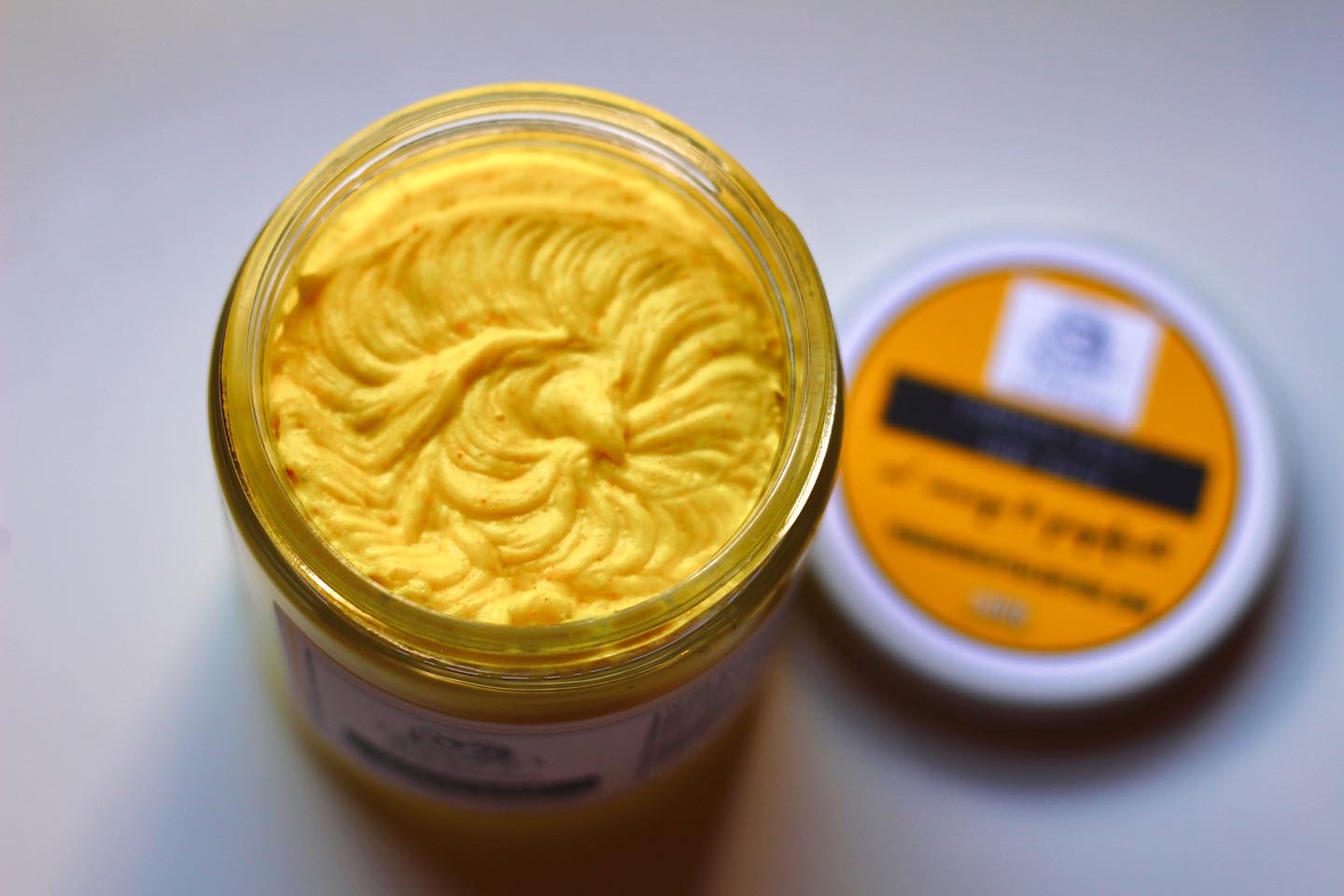 Turmeric Face & Body Wash
Description
A highly effective soap-free cleanser that uses the power of Turmeric to brighten skin all while gently cleansing away dirt, oil, and impurities.
Because this wash does not strip skin and is pH-balanced, it is perfect for all skin types, especially sensitive skin.  
8 OZ Glass Jar
Benefits
Brightens skin and dark marks
Softens skin
Reduces breakouts
Evens skin tone
Non-comedogenic (won't clog pores)
Ingredients
Distilled Water, Vegetable Glycerin, Cocamidopropyl Betaine, Sodium Cocoyl Isethionate, stearic Acid, Castor Oil. Grapeseed Oil, Hempseed OIl, Turmeric, Tea Tree, Grapefruit, Orange, & Lemon Essential Oils, Preservative(Benzyl Alcohol & Salicylic Acid & Glycerin & Sorbic Acid).


Pairs Well With
Facial Oil
Facial Cream
Aloe & Green Tea Toner
Porcelain Skin Brightening & Smoothing Serum
How to Store
Store at room temperature. Avoid introducing water into the container. Discard after 6 months.
Turmeric Face & Body Wash
Customer Reviews
10/12/2023
Amyrea M.

United States
I recommend this product
Cleared my dark spots
I've been having acne and dark spots on my chin for over 6 months and recently started using the face wash. I'll apply it, minimal amount needed, and let it sit for 5min then rinse and apply your Unsented Body Cream. Not only does it leave my skin feeling smooth but I just noticed that the dark spots on my skin are disappearing with continued use. I will definitely be buying more, excellent work!!
01/19/2023
Anonymous

United States
I recommend this product
My lovely purchases
Hi everyone, I made a purchase of the turmeric face and body wash, the underarm detox, and two of the women's aluminum free gentle pit deodorant. I said I would test everything out over the course of 30 days before writing a review, however, it has only been about three weeks of using each of the products I've purchased. I will say that so far, I absolutely enjoy ALL of the products I've purchased. Starting with the underarm detox, I decided to start limiting my deodorant use as I noticed that store bought deodorants, mainly name brands were irritants and I needed to quickly find a healthier solution as I couldn't risk having irritated underarms! So, I waited until winter to try the detox and applied both the dry and wet ingredients everyday for a week. I did not wear deodorant during this time as I wanted to fully activate the detox so my social life was limited during that week! After my week of detoxing, I began using the natural deodorants from Terra Essentials. The two scents that I purchased were Amber & Bergamot and Vanilla Lace. I will say that I am actually in love with these two deodorants as they really last all day, physically and scent-wise without staining white shirts (I've tested this), and they smell amazing. The Vanilla lace so far is my favorite. Moving to the Turmeric mask, I literally use this almost every night in the shower. It smells wonderful and I love the way it makes my skin feel. I also have naturally dry skin and I've noticed since applying this solution, it has really hydrated my skin. Some weeks I have gone a day or two without using it to ensure my skin is cleansing without getting clogged. I will most likely be making another purchase from Terra Essentials and this online store may be my new go-to for body care supply as I am highly satisfied!
03/13/2022
Anonymous

United States
I recommend this product
Love Terra Essentials
I love this product and how my skin feels after my shower. I recommend their products, they are essential to my everyday life.
12/22/2021
Jantel G.

United States
I recommend this product
Amazing !
So I was a little apprehensive about using a whipped soap , I thought would it be drying, would it get the job done. I'm glad I decided to try this product , first of all let's talk about the scent amazingggg orange and grapefruit scent not overpowering and last on my skin. A little goes a long way and my skin is incredibly soft as well as some of the hyperpigmentation I have on my back is fading as well. My only thing is my container wasn't filled all the way could be a one off but I'll definitely will be buying again.
03/20/2021
Jasmine

United States
I recommend this product
Favorite product
I used this on my face and instantly noticed how smooth and clear my skin looked and felt. I've been using it everyday since I bought it and have zero complaints. I also use the face toner and skin moisturizer after but even without anything, this scrub doesn't dry my skin out. It also seems to be shrinking my pores, I'm excited to try more products from this line.