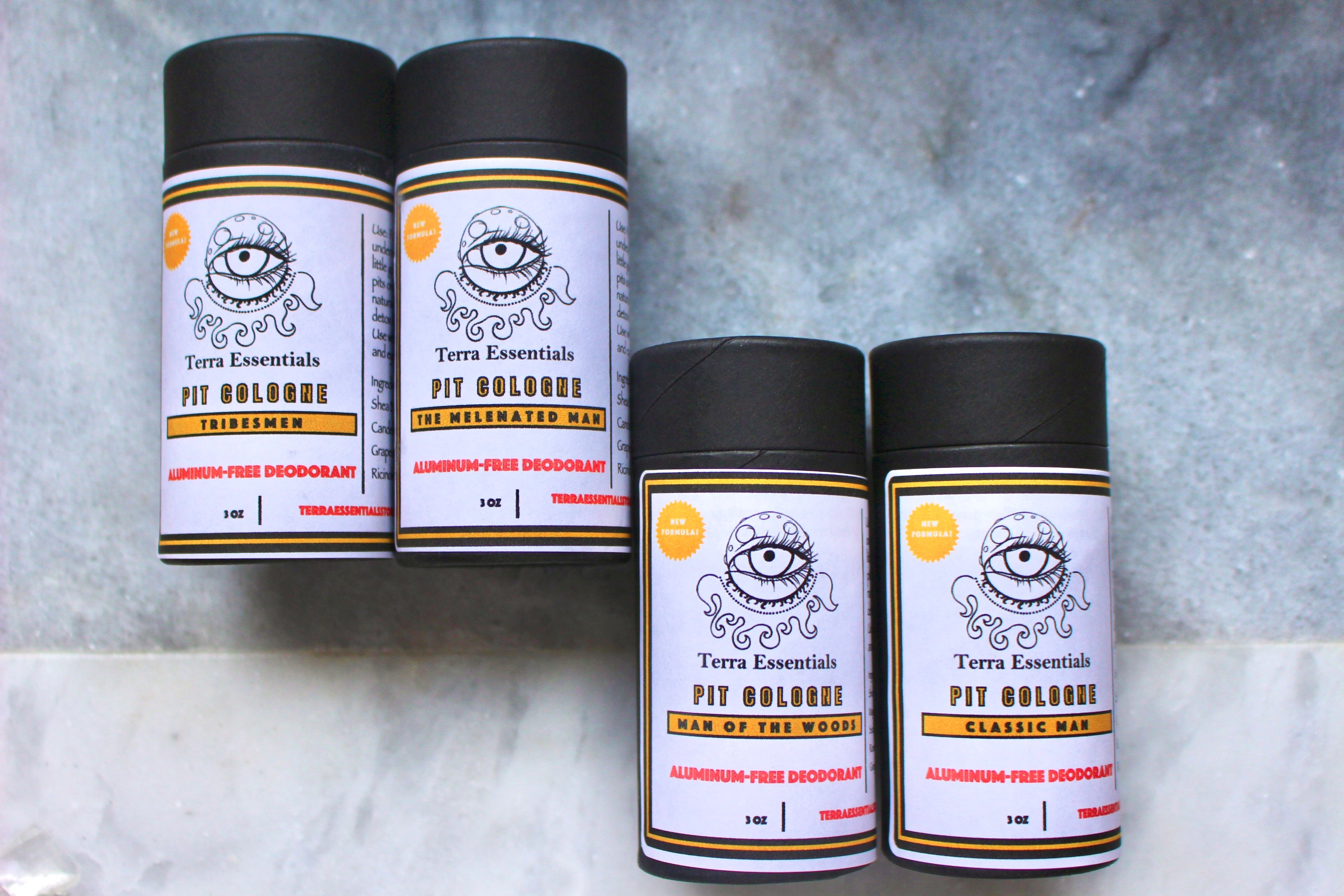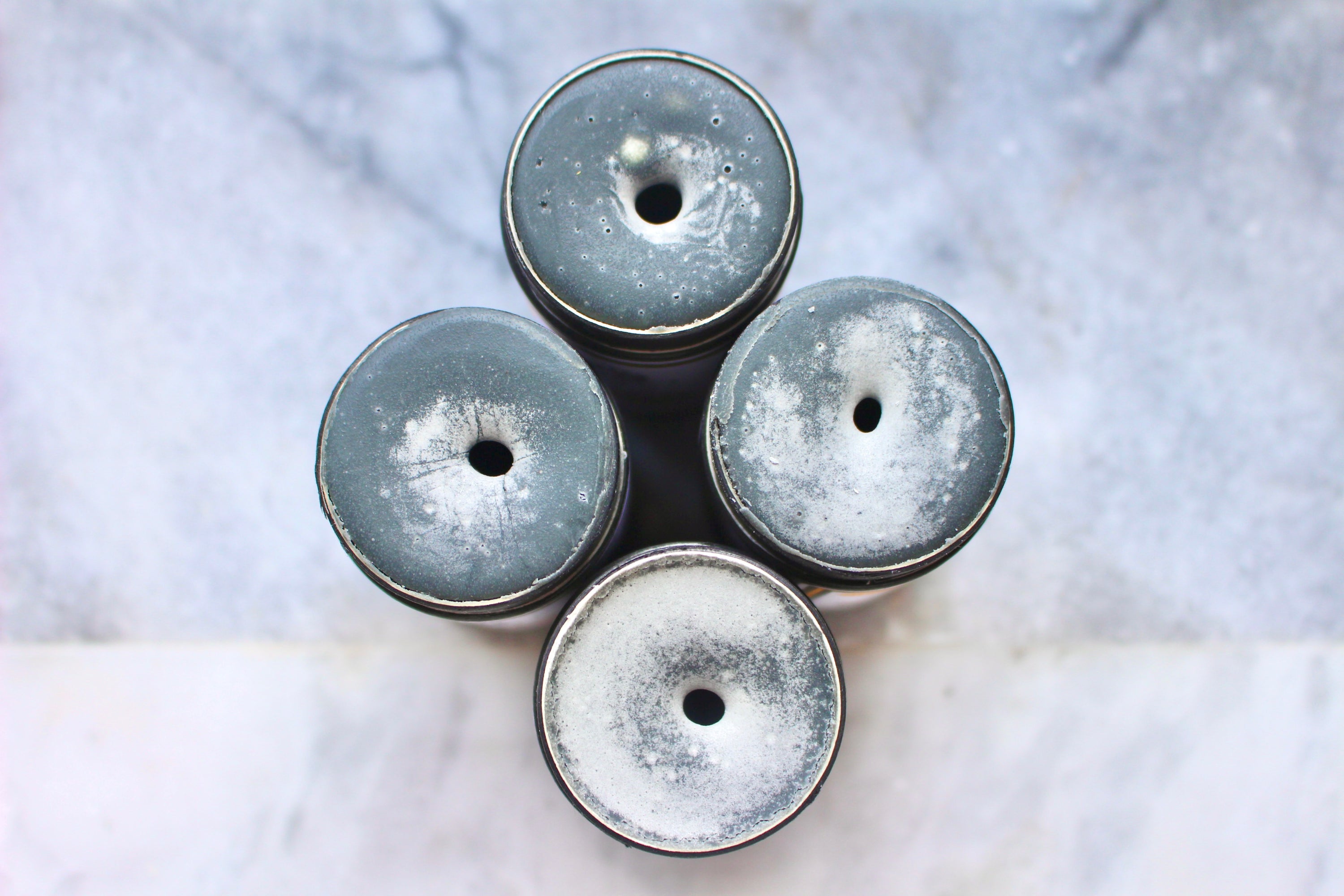 Pit Cologne Men's Deodorants
Description
All of our Men's deodorant contain activated charcoal to provide extra odor protection, and may even help reduce sweating. All of our fragrances are paraben and phthalate  free, so no need to worry about any hormonal disruption. 
Scent Descriptions:
Classic Man:
Black Tie. Crisp Button Down. 1/4 inch hem on your black straight leg slacks. Cleeeaaannnn. That is this scent exactly, a refreshing clean scent that will compliment any profession! 
Man of the Woods:
This essential oil blend is the epitome of a wilderness retreat. Embodying all the different aspects of a forest, this scent has peppery notes, that are complimented with sweet citrus and a hint of refreshing mint. This scent will leave you feeling energized.

Melenated Man:
What does the Melenated Man smell like?

We at Terra Essentials think that he smells like strength, perseverance, and bravery which reminds us of pine trees mixed with smoky woodsy notes with a hint of citrus. Words can't really explain how lovely this scent is! 
Tribesmen:
Imagine yourself in the motherland before technology. You are surrounded by the aromas of ginseng root And patchouli bushes, and accompanied by a Baobab wood burning fire. That scent is Tribesmen. this scent embodies what we at Terra Essentials imagines what our ancestors smelled like. 
If you are new to natural deodorants, we suggest performing an armpit detox using The Detoxers also sold by Terra Essentials. The Detoxers also helps when you find that your natural deodorant isn't working as well as it once did.   
Please give your body up to 45 days to adjust to a new product.
2.8 OZ Push-Up Paper Tube
Benefits
Long-lasting odor protection
Goes on clear
Aluminum-Free

Ingredients
Organic Shea Butter, Organic Candelilla Wax, Jojoba Oil, Arrowroot Powder, Magnesium Hydroxide, Zinc Ricinoleate,Essential Oils and/or Fragrance Oils
How to Store
Store at room temperature. Use within 1 year of opening.


Pit Cologne Men's Deodorants
Customer Reviews
100
reviewers would recommend this product
Write a Review
02/21/2023
Melissa A.

United States
I recommend this product
another great product! Great scent, very light
another great product, amazing scent!
02/07/2023
Anonymous

United States
I recommend this product
My husband loves it
This is the first natural deodorant my husband actually likes and it works. Also a great scent.
06/29/2022
Najzhay R.

United States
My New Go-To
For context, Ive been using Arm & Hammer Essentials deodorant for a year or two so I really didn't have a transitional period. Mainly just getting use to the intensity of the peppermint and the cool feeling. I use this at nighttime and it keeps me fresh throughout the night.