Description
The hair removal method you didn't know you needed!
This Sugaring Kit is perfect for those that like smooth, hairless skin. Easy to use and fun too! Instructions are included in this kit, but we also have some quick tutorials on our instagram & TikTok page (@theearthlyalternative).
Kit Includes:
-8 oz Sugar Paste
-2 oz Dusting Powder
-1 oz Post Sugaring Serum
-1 Steel Spatula
-12 Reusable Wax Strips 
-Instructions
Our sugar paste is great at remove all types of hair and is made from just two ingredients!
Consistency of sugar can vary based on your environment. If sugar is too firm, heat either in the microwave for 5-10 seconds (remove lid) or set in hot water bath for 5-10 mins. 

if sugar is not firm enough, refrigerate for 5-15 mins or until desired consistency is achieved. 
Benefits
Contains everything you need for a great sugaring session
Does not irritate skin
Results Last 2-4 weeks
Naturally Made
Earth-Friendly
Ingredients
Organic Cane Sugar, Organic Lemon Juice
How to Store
Store at room temperature or refrigerate for more firm sugar. Use within 6 months.
Customer Reviews
I recommend this product
The BEST Sugaring Kit
This is an amazing sugar waxing kit! It comes with everything you need for a successful wax and it's plastic free (I think the Post Sugaring Serum dropper is silicone). It is also very easy to use. I've used sugar wax from a few different companies and this is by far my favorite. I store my wax in the fridge and it can get a bit hard. I like to let it sit out for a bit but it can be warmed using the provided directions. THIS WAX IS THE BEST! It works so well takes me less than 15 minutes for my underarms. I have very sensitive underarms and it does not cause irritation when used correctly. 1000% recommend! *Lip scrub in photo not included in kit*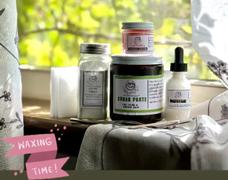 04/07/2023
Sara Z.

United States
I recommend this product
Amazing
First time using your products and wasn't sure if I was doing it right. Went back and watched more videos and figured it out.
08/29/2022
Anonymous

United States
I recommend this product
Best sugaring kit by far
Perfect! Everything you could ever need is included!
01/12/2022
Marquia E.

United States
I recommend this product
Super Easy To Use!
I've been interested in trying sugar wax for awhile. After finding this IG page, I decided to buy this kit. Everything was so organized! I loved the consistency of both the paste and strip sugar wax, but I began to prefer the strip sugar because I was making a mess with the paste! The instructions were really clear and easy to follow. After waxing my legs, under arms and bikini area, the post serum felt amazing! Yes, its painful but not unbearable and it gets easier. Hopefully I'll be doing my own Brazilian wax soon!! Thank you for this kit! I'll be needing some more wax soon! I used too much in the beginning. LOL.