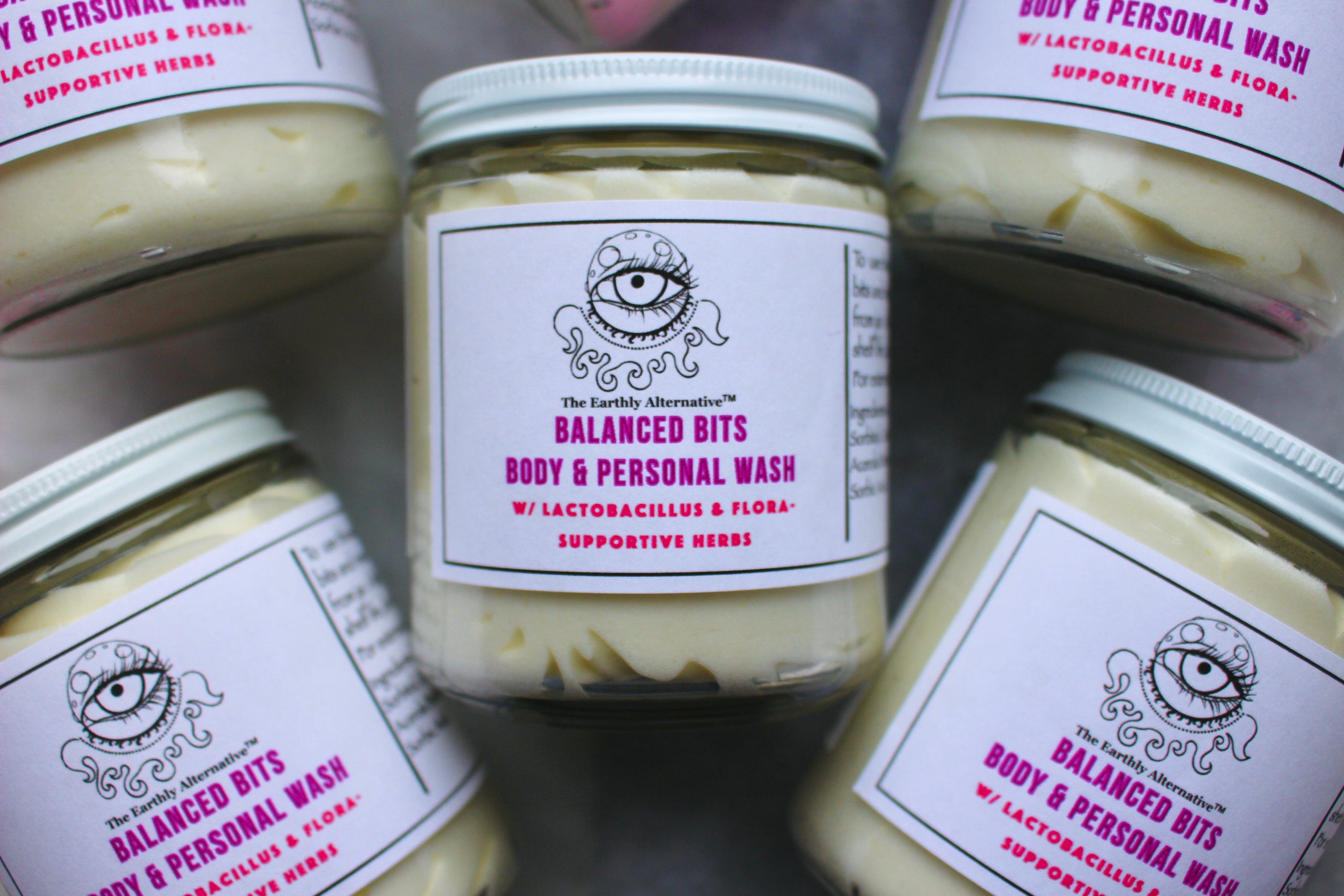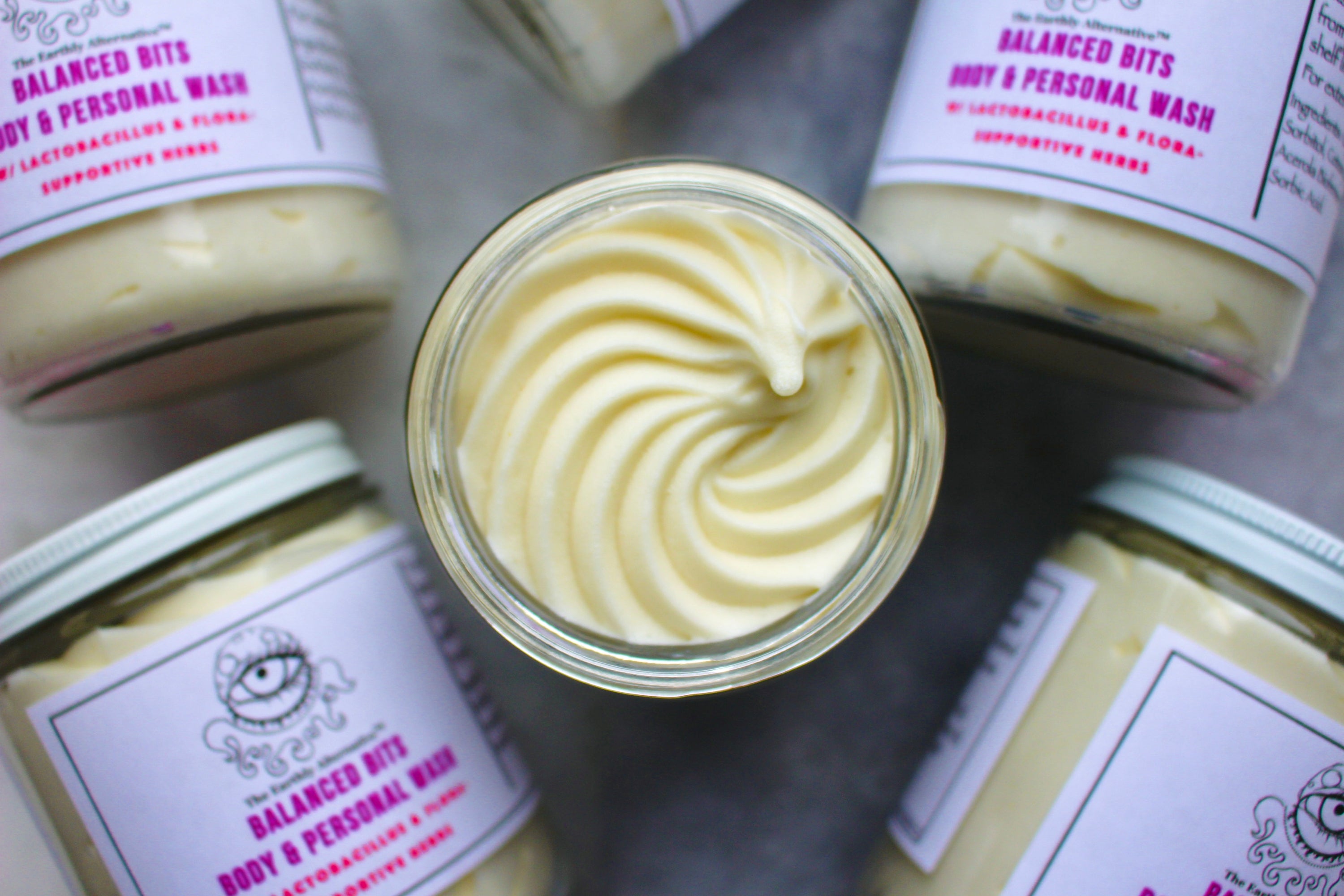 Balanced Bits Body & Personal Wash
Description
Balanced Bits Body & Feminine Wash is a cleanser that supports the delicate balance of your bits! 
It works to create an environment that odor-causing, flora-disrupting bacteria cannot thrive in. 
Benefits
Free from dyes, fragrances, and harshly acidic ingredients (Apple Cider Vinegar )

9-Herb Blend infused into Coconut Oil as well as pre & probiotics to promote a healthy flora, won't disrupt your delicate pH, and keeps you feeling fresh throughout the day

Gently cleanses without leaving you feeling stripped and dried out

All ingredients are natural & most are vegetable-derived. This wash is concentrated, so a little goes a very long way. Plus, lots of cleansing foam too!
Ingredients
Glycerin, Sodium Cocoyl Isethionate, Cocoamidopropyl Betaine, Decyl Glucoside, Stearic Acid, Sorbitol, Cetearyl Alcohol, Aloe Vera Juice, Sodium Lactate, Proprietary Blend of Herbs-infused Coconut Oil, Acerola Bioferment, Tonka Bean Bioferment, Yogurt Filtrate, (non-vegan source of lactobacillus), Vitamin E, Preservative (Phenoxyethanol, Sorbic Acid and Caprylyl Glycol).



Herb Blend includes: Lavender, Oregano, Calendula, Echinacea Root, Blue Cornflower, Neem Leaves, Mint Leaves, Moringa Leaves, Alfalfa Leaves
How to Store
Store at room temperature. Discard after 6 months.
Balanced Bits Body & Personal Wash
Customer Reviews
12/06/2023
Alyssa

United States
Really changes the game, always feel super clean down there and have super sensitive skin which this does the trick perfectly
10/09/2023
Lady

United States
I recommend this product
Feels great
You feel clean all day. A little real goes a long way. Love everything about it.
09/01/2023
Tiera

United States
I recommend this product
Great product!
Love this wash, a great product for your bit! This wash will keep your fresh and balanced. A little literally does goes a long way. Thank you found a product for someone who suffer with BV.
07/21/2023
Chasity B.

United States
I recommend this product
Obsessed
Overall my experience of bits have been wonderful! It is truly healing and makes me feel so fresh and clean. I will forever buy this product because I know it's beneficial to my body and health. A little definitely goes a long way but I literally just ordered another one . Truly a good product!
06/28/2023
Kyristina L.

United States
I recommend this product
Little goes a long ways!
Been using this wash on my bits a few months into my pregnancy as I was having some yeast issues due to hormone changes. Didn't resolve the ordeal completely (because that's a medical thing) but has definitely made life so much more manageable & itch free! Love and cannot wait to repurchase in the future!