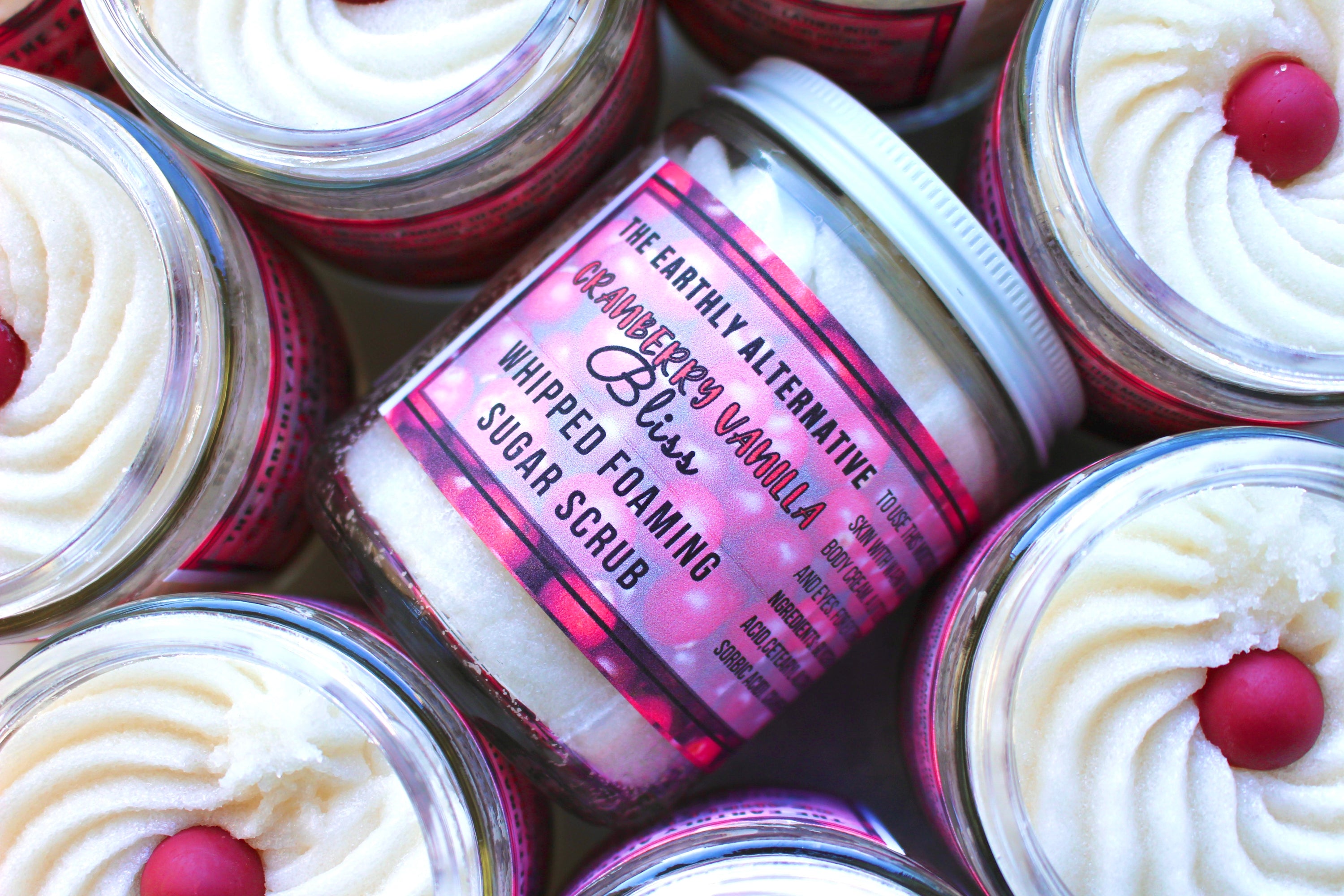 Cranberry Vanilla Bliss Whipped Foaming Sugar Scrub
Description
A cleansing, but moisturizing Foaming Sugar Scrub that is sure to exfoliate away dead skin to reveal smooth, soft, and hydrated skin. Follow with any of our butters and creams for added moisture. 
Scent Description:

Fruity and Festive! sparkling cranberries mingle with juicy cherries, peaches, and hibiscus with a subtle kiss of vanilla. Not overwhelmingly fruity or sweet, just perfect!
8 OZ Glass Jar
Benefits
Exfoliates and cleanses skin simultaneously

Reveals smooth, soft skin

Helps cell turnover to encourage fading of scars and marks

Reduces appearance of Keratosis Pilaris (Strawberry Skin) over time
Ingredients
Glycerin, Granulated Sugar, Sodium Cocoyl Isethionate, Cocoamidopropyl Betaine, Decyl Glucoside, Stearic Acid, Cetearyl Alcohol, Sorbitol, Aloe Vera Juice, Sodium Lactate, Shea Butter, Preservative (Phenoxyethanol, Sorbic Acid and Caprylyl Glycol). Cranberry Vanilla Fragrance Oil, Mica. Body Bar: Candelilla Wax, Avocado Oil, Jojoba Oil, Shea Butter, Vitamin E Oil, Stearic Acid.


Pairs Well With
Whipped Soap, Hydrating Body Cream, Whipped Body Butter & Body Perfume
How to Store
Store at room temperature. Do not introduce water into container. Discard after 6 months.
Cranberry Vanilla Bliss Whipped Foaming Sugar Scrub